Inner-views:

Mark S. Kuhar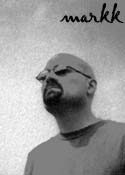 andrew: first of all, mark, thank you for agreeing to do this interview...

markk: but of course.

andrew: mark, at what age did you begin writing poetry? and why did you begin
writing? what desires, inner-movements of your soul, made it inevitable that you
write? have you ever been to the sahara?

markk: i wrote my first poem when i was seven years old. i still have a copy of
it. i remember asking my mother if poets made good money, because i was interested
in getting a job in that field. she laughed and suggested that it might be better
if poetry were my hobby. i began writing because a crack appeared in the egg.
when the egg cracks, you can either glue it shut, or break it open & make an
omelette. the name kuhar means "cook" in croatian. 'nuff said. i've never been
to the sahara, but i've read "the little prince" numerous times, so it's sorta
the same thing.

andrew: mark, what literary figures have influenced your work the most?

markk: obviously d.a. levy, for his role as a cleveland-based poet, a latter-day
beat, but in general, the beat poets. that's sort of cliche to say but it's true.
kerouac is king. ALSO: j.d. salinger. rilke. kafka. richard brautigan. bob dylan.
turn of the 19th century russian poets, such as akhmatova, bely, mandelstam,
khlebenikov, blok, tsvetaeva, and of course mayakovsky.

andrew: oh, mayakovsky? but of course! among the e-poetry community, are there
any e-poets whose writing you follow regularly and who are they?

markk: there's this kid named lundwall who ain't half bad. i dig the work of my
leveland homies, like paul skyrm, josh gage, vladimir swirinsky, kathy walker,
katie daley , michael salinger, ray mcniece, terry provost and all the others.

andrew: tell me a bit about your idea for a deep cleveland press.

markk: deep cleveland press isn't officially launched yet, but it will start out
being a publisher of national anthologies, and will ultimately support local &
national poets whose work i admire.

andrew: i've noticed that you've added new features to deep cleveland recently..
are there any other planned features you'd like to make readers aware of?

markk: i just launched a new special section called "water*FIRE*light: contemporary
poetry in the mystic tradition." i'm all geeked up about it, because there's a
mysterious alchemy that occurs with the writing & publishing of mystic poetry.
it breaks open portals of the universe that heretofore remain closed or hidden.
it is my hope that by supporting the craft of ecstatic expression, it will release
positive-active energy into the universe as a counterbalance to the negative-
active energy already flowing from places such as, OH, the white house, for
instance.

andrew: what are your thoughts on the possibility of another war with iraq?

markk: ghandi said that war is a morally unacceptable alternative. i think a war
with iraq is being planned by the G.O.P. to achieve its aim of enriching its
corporate donors in the oil & energy fields, and as a diversionary tactic to cover
up a freefalling U.S. economy, for which the puppetteers that manipulate GEORGE W.
BUSH'S strings have no answer. also, karl rove, the main bush puppeteer, has
crafted a re-election strategy that is designed to use fear of iraq & terrorism
as a means to keep U.S. citizens deluded into thinking they need hideous thugs
like john ashcroft & donald rumsfeld to protect them. and by the way, all of this
is occuring with mass media collusion on a massive scale. i consider pro-peace
citizens to be american patriots, and pro-war citizens to be ultra-nationalist
extremists. i say war is weakness, peace is strength.

andrew: markk, when you think of the word "surreal" what immediately comes to
mind?

markk: rene magritte & salvador dali. gertrude stein. tie-dye. chameleon breath.


andrew: how do you think the midwest, in particular, cleveland, has affected
your writing?


markk: my theory of deep cleveland comes into play here. the roads & bridges, &
the lake & the river, & the steel mills & the auto plants, & the neighborhood
bars & the ethnic delis become spirit & infuse your thoughts & impressions & thus
surface in the poems. & it's something you can't escape from even if you try.


andrew: in writing is their anything that is impossible to describe? does the
writer make the impossible possible?

markk: our perceptions are impeded by the infantile capacity of human intelligence,
which allows us only the limit of vocabulary to try & describe things which are,
essentially, beyond all limits.

andrew: what does the future hold in store for mark s. kuhar? where do you see
yourself one year from now, a decade from now?

markk: it is my hope that i can revise & organize my own personal body of work,
which now comprises of more than 1,000 pages of poetry, in such a way that will
allow me to do a better job of marketing it. i'd like to have several collections
of my poems published in the future. i also envision deep cleveland press as a
functional & profitable small press publishing company. and of course one day i
want my every word & action to generate a pure outrageous ecstatic bliss of
white healing light.





Please discover Deep Cleveland






---







Innerviews:


Alex Gildzen


andrew: first of all, alex, thank you for agreeing to do this interview...

alex: my pleasure Andrew. you make me feel like Matt Damon.

andrew: alex, let's just say that you are matt damon...

at what age did you start writing poetry?

alex: there are extant 2 poems written when I was 12.

andrew: ...and why did you begin writing?


alex: I have no memory of the why. but it must've felt good 'cause I've been
doing it ever since.

andrew: sounds like a plan..

what desires, inner-movements of your soul, made it inevitable that you write?

alex: which gene carries creativity is unknown to me. I think all children
create. why some stop while others continue forever is a mystery to me.

andrew: perhaps it shall remain a mystery... interesting observation, alex..

so...

have you ever been to amsterdam?

alex: perhaps in a dream.

andrew: alex, what literary figures of the past have influenced you the most?

alex: the ones I know abt are Whitman & Marianne Moore & Hart Crane & Frank O'
Hara but I think I learn something from everyone I read.

andrew: i see... and among the poetry community, are there any contemporary
poets whose writing you follow regularly and who are they?

alex: I don't keep up with poetry the way I once thot I did. I see films instead
of reading poems.

andrew: interesting...

tell me a bit about Toucan Press..

alex: it began as a magazine in 1967.

I think it only lastd 4 or 5 issues but we publishd Gary Snyder & Paul Metcalf &
d.a. levy & Gregory Markopoulos & Eric Bentley & Jean-Claude van Itallie. eventually
it became the venue to launch my own books.

andrew: it seems as tho' there is alot of history within the pages of Toucan,
surrounding the press.. thanks for sharing..

now, alex, what are your thoughts on the possibility of another war with iraq?

alex: I'm sick. I find it disappointing that right now the polls show half of
the nation still supporting this president given to us by the Supreme Court.
"regime change" must begin at home. however that will take time & such damage
will have been done.

andrew: alex, if you were a martian and you finally made communication with the
people of earth, what would your message to the world be?

alex: I once wantd to be a movie star but I've never considerd being an alien.
did you ask this question because I visitd the "crash site" in Roswell?

andrew: possibly, i don't recall...

in writing is there anything that is impossible to describe?

alex: no.

andrew: does the writer make the impossible possible?

alex: good writers take us where we've never been & convince us it is home.

andrew: let's discuss the future of alex gildzen... what do you see in your crystal
ball?

alex: the only thing I know for certain is that nothing is certain.

andrew: where do you see yourself one year from now, a decade from now?

alex: I'll still be writing "Alex in Movieland" which is my master work. my life
as a list. on my deathbed some nasty nurse will be trying to pry the pen from my
fingers.

andrew: now that is commitment!

are there any new gildzen projects that you'd like to make the readers of this
site aware of?

alex: this interview is interrupting the composition of a poem which
is part of a collaboration with a poet by the name of
Andrew Lundwall. it'll be an event.

andrew: agreed...

alex: another collaboration "February 03" done last month with Todd Colby &
Thurston Moore & Matthew Wascovich will
be coming out under the Slow Toe imprint.

"Bry With Blue Pillows" is a broadside Jeff Weitor is designing.

"The Century Dimes" is a major project to which I add an item every month.
that's on my website.


"Territory of Men" is a collection of homoerotic poems covering my entire career
which is looking for a publisher.


I have no idea when "Alex in Movieland" will begin to be publishd but it's the
work for which I'll be best rememberd.



---